Well the boy had a scout potluck tonight. The girls had other obligations so we had to miss out but the boy requested our corn salad. Again it was a hit. It is so easy to make and super yummy too! I had to buy extra to make some for at home we will be enjoying tomorrow night with supper. So as requested here it is....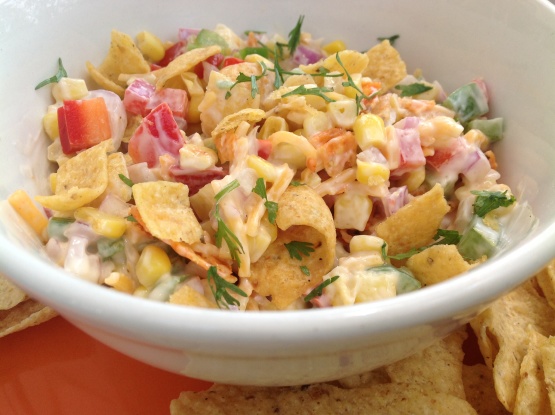 2 cans yellow kernel corn, drained
1/2 red bell pepper, sliced and chopped
1/2 green bell pepper, sliced and chopped
1/2 purple onion, chopped
1 cup shredded cheddar cheese
5 ounces of chili cheese flavor Frito corn chips
Mix all the ingredients except the chips.

Add the chips in before serving otherwise the chips will get soggy.

Red peppers are expensive so you can just use green instead.
NOTE: I add seasonings since we don't have the flavored corn chips in Canada. SO I add fresh ground pepper and either season salt or cajun seasoning.
Hope you enjoy as much as our family does!